Creative Bride and Groom Portraits
One of the aspects of wedding photography the many people many photographers find difficult to deal with is lighting. How to recognize it, use it and even bend it to create mood and shadow in images is one of the skills that seems to be lacking in many photographers. For someone with a photographic eye and seeking a photographer, this is often what sets one apart from another. Use of light and editing style as well. Photography to me is not just learning to meter and snapping a well exposed shot by pushing a button. If that was the case, auto mode on cameras would make photographers obsolete. There are so many factors that a photographer has to consider when taking any type of shot, but the first thing that is always considered is light. The first thing I always take into account is the direction of the light. Where is it coming from? In part one I wrote about group photos when your subjects are smiling at the camera. It was fairly simple. Have the light aimed flush on their face from a large light source. The bridge of their nose is a perfect angle for which the light to hit them.
This is actually a rule I follow often with creative sessions as well. The only difference is that this will be during the Bride and Groom's portrait session, and they won't be looking at the camera. During the getting ready photos, once the bride is ready, I will take a few photos next to the window, only shooting sideways along the window. It makes for a beautiful light on her face and a really unique portrait. Here is one from a wedding I did back in April of 2015. For these shots, I like to go with black and white for a more powerful effect.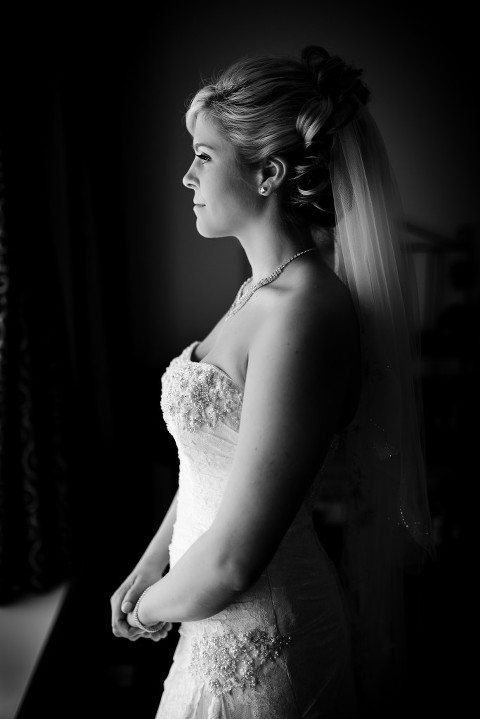 Another example of this "on the nose" light is in this image from an engagement session at Stewart Farmhouse in White Rock, BC. Generally, I will have the woman facing the light source and not worry so much about the man. The bride/bride to be is always my focus. I find the men look more masculine with some shadow on their face anyways.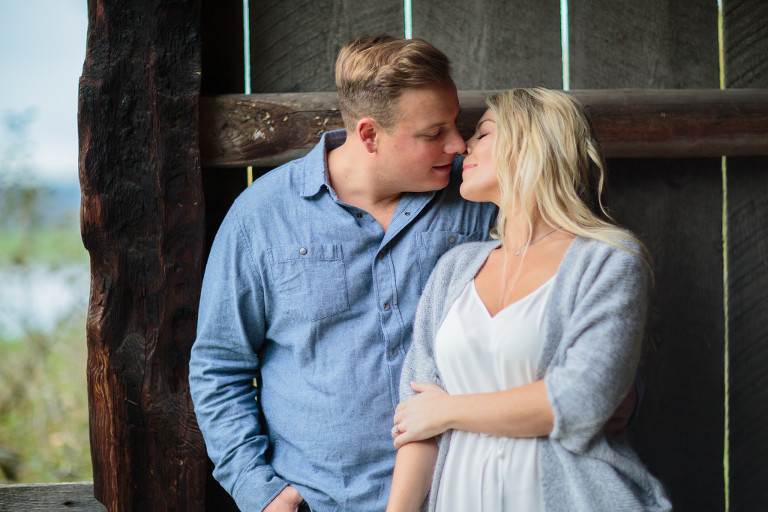 So whenever the bride or women are in the shot, I will always try to apply this nose to light rule. It just provides the best result for my style and the effect that I am going for. If the whole area is fairly well lit, it is not so critical, but when you are in an area with directional light, it is always more flattering for her to be facing it. There are times when I'm doing shots of the groomsmen that I will take advantage of side lighting. This casts a shadow across half of their faces and makes the guys look tough. This one is one in which I incorporated side lighting.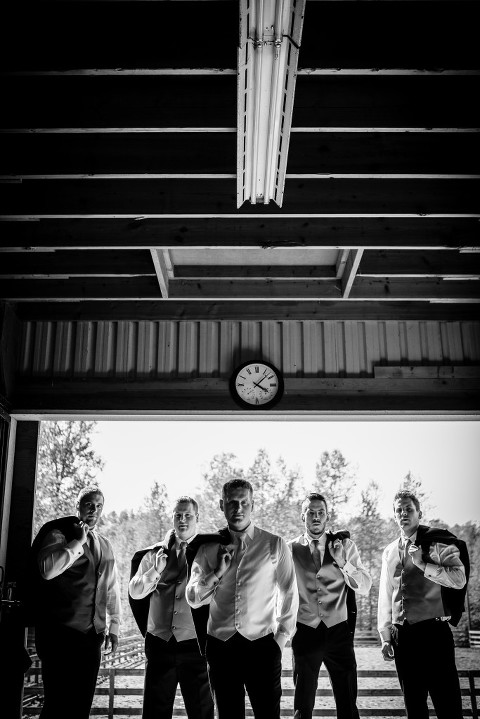 So there is front from camera light, front to face light and side light. Then we have the most magical light. Backlight. Backlight is exactly what it sounds like. Having the light positioned behind your subject, whether it be the sun or a flash. This can range from a subtle rim light highlight the hair of your subject to have a sun flare haze over your entire image to create a magical, dreamy feel. Backlight can also highlight other things like tree leaves and rain. Here is one from an engagement session in a small apple orchard in White Rock. We have the trifecta! The rim lit hair, glowing leaves and the dreamy sun flare. This is the most tricky type of lighting to master. Trial and error will be your friend. Now all that's need to complete the image is posing. Which I will post on at a later date.